During regular business hours, please call our clinic:
519-746-7557
For after hours emergency, please call:
Emergency Veterinary Clinic of Waterloo Region
405 Maple Grove Road, Unit 14
Cambridge Ontario, N3E 1B6
519-746-7557

For emergency care for exotic pets, please call:
Ontario Veterinary College
28 College Ave West
Guelph, ON
519-823-3380
Please Note: EVC is now 24 hours and available even during our regular hours. Our team works with the EVC to provide follow up care for all patients transferred between clinics.
In the event of an emergency, every moment counts. The same applies to pet emergencies. No caring pet owner wants to imagine their cherished companion facing the need for urgent care, but accidents happen and unexpected illnesses occur. It's important to know who you can count on should your pet face the need for critical veterinary care. Rest assured that in your time of need, Bridge Street Veterinary Hospital will be here for you.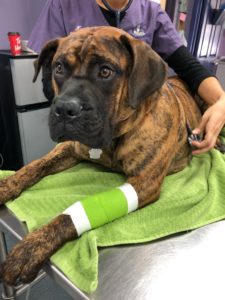 Our dedicated team is experienced in handling all kinds of emergency veterinary care situations and is prepared to deliver the timely and efficient treatment necessary to manage your pet's critical care needs. Whether it's an accident, the sudden onset of illness, trauma or something else, you can be confident that the team at BSVH is ready to step in and help at a moment's notice.
Our critical care services are available during regular office hours. If your pet emergency occurs during this time, please call ahead at 519-746-7557. This will provide us with the opportunity to review your situation, provide advice for care that you can administer to your pet immediately, and to adequately prepare for your arrival at our hospital. Of course, if the nature of the emergency does not allow for you to call ahead, please proceed directly to our clinic with your pet for immediate attention and care.
We refer exotic patients to the Ontario Veterinary College located at 28 College Ave West, near Gordon Street, in Guelph, ON 519-823-3380.
For those emergency situations that occur outside of normal business hours, please call the Emergency Veterinary Clinic of Waterloo Region (EVC) at 519-650-1617. They will assist you by providing the most efficient, effective care available in our absence. The EVC is conveniently located at 405 Maple Grove Road, just a few blocks east of the Sportsworld Dr. exit. We partner closely with the EVC and they will forward your pet's medical history to us to ensure the smooth treatment of your pet. We will provide any needed follow up care at our facility.