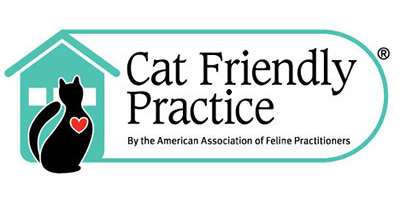 At Bridge Street Veterinary Hospital, we understand that for many cats, trips to the vet can be a source of great anxiety. We want to change that once and for all! We are certified by the American Association of Feline Practitioners as a cat-friendly practice, which means we have taken special measures to make veterinary care a positive experience for our feline friends.
What exactly is a "cat-friendly practice"?
Recent research has revealed a disturbing trend that shows a significant decrease in feline vet visits. The problem many cat owners face is that visits the clinic can incite feelings of fear, anxiety and even aggression in felines. Cats are incredibly sensitive to their external environment. The unusual odors, sounds and sights associated with a typical veterinary office, combined with having to come into contact with unfamiliar people and animals, can be enough to send even a normally calm kitty into a panic. By the time a nervous cat gets to the exam room, you've got a recipe for disaster.
The concept of cat-friendly practices aims to change the entire experience, both for feline patients and their owners. This is accomplished through a number of things. In particular, it's specialized training of staff in dealing with frightened cats, and designing the hospital environment to make it a less stressful place. At BSVH, we've worked hard to achieve our cat-friendly certification, and are proud of the unique care we offer to our feline friends.
From the soft, soothing music playing throughout our clinic to the special calming pheromones we use to infuse the air, to the gentle handling techniques that our team has been trained in, we're prepared to make even the most apprehensive kitty feel at ease. If your cat is nervous about going to the vet, let us help to set you both at ease. Schedule a cat-friendly appointment today and see what a difference this unique type of care can make!