As long as I can remember I always wanted to work with animals and to give them the best care that I can.  I would bring home baby birds, frogs, worms and anything else you can think of to help them.  My hometown is Cambridge.  I worked at a local animal hospital and African Lion Safari for a summer.
I graduated from St. Clair College and became a Registered Veterinary Technician in 2004.  In 2009 I was awarded the Ontario Association of Veterinary Technician's "Technician of the Year" for outstanding work in the field.  I have a special interest in anaesthetics and pain management (surgery) and I work with both a high level of skill and compassion.
I share my life with my Husband, our children and Bubbers the cat, who I adopted through St. Clair College while studying there.
Bubbers came to the college by a class mate.  He was found in a garbage bag by the side of the road along with his two sisters and brother.  He was a crazy cat with tons of energy.   Today at about 16 years old, he has slowed down to just cuddles.  He has been there for me in good times and bad and I wouldn't change him for anything.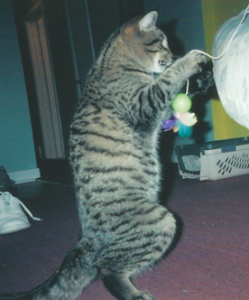 This is Bubbers playing with his favourite toy when he was 4 years old.
I am officially Fear Free Certified! You can ask us the benefits of a Fear Free Clinic and what we do to make sure it's a Fear Free visit for the whole family.