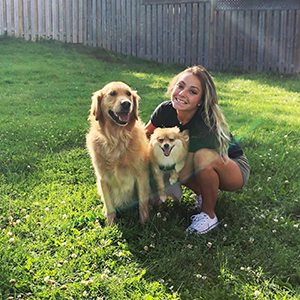 My passion for animals continues to grow the more opportunities I have to work with them. All my life my family has had dogs and cats. I have 2 dogs, a Golden Retriever named Bentley, and a Pomeranian-Chihuahua mix named Archie. I have 3 cats, Ashes, Lenny and Fidget. I love them more than I could ever explain and they have been my inspiration and motivation to choose this career path. Because of them and my past family pets, I so easily open my heart to the many other animals that have crossed my path and will continue to in the future.
Currently, I am studying at the University of Guelph, Ridgetown Campus in the Veterinary Technician program. Before then, I studied with McMaster University in the Bachelor of Science in Nursing program. That path lead me in the direction of working with animals and I couldn't be happier!
I am so excited to be part of the BSVH team and I cannot wait for what's to come!