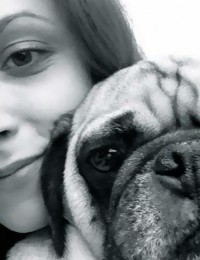 Growing up I've always had animals; cats, dogs, hamsters, birds, mice, a snake and even chinchillas! Needless to say, I have a strong love for ALL animals. Currently, I have my cute little Junior who is a 16 year old roly poly diabetic cat that sometimes thinks he is still a kitten. He loves to cuddle, eat, sleep and his all-time favourite is drinking water from the tap!
My first experience in a veterinary hospital setting was as a co-op student about 14 years ago. I enjoyed the experience so much that I decided this was the industry I had to be a part of, in fact I was later hired at the very hospital I did my co-op at. Over the years I have worked at several hospitals in various different roles. I have worked as a Receptionist, Hospital Assistant, Veterinary Assistant, Veterinary Technician and I am proud to announce myself as the Hospital Manager at Bridge Street Veterinary Hospital.
One of my favourite things about working at LVAH is knowing that I am part of a team that is dedicated to ensuring that our clients and their pets have the best possible experience. Everyone working together to help pets feel better and live long and happy lives! I feel very blessed that I was able to turn my passion for animals into a rewarding career. I love that every day I get to come to work and spend it with all types of furry friends, some big, some small and some not so furry ☺
Remember…Life is good, pets make it better!