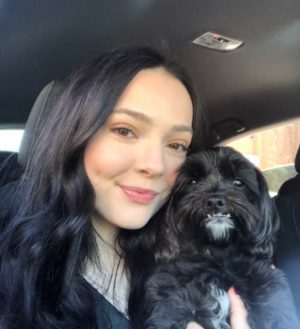 I have truly always loved animals for as long as I can remember. I believe wholeheartedly that all animals deserve love and care, and to live their fullest, healthiest lives. I also believe it is my purpose in life to help them achieve that! It doesn't matter if they're a cat, dog, snake, bird, cow, pig, horse, skunk, raccoon, etc. I love them all!
I have always grown up with pets. I've had rats, fish, guinea pigs, cats, and dogs! Pictured here is my family pup Bella, but I also have a dog named Koda and a Guinea pig named Teddy!
I have a background in psychology which helps me to create a safe and comfortable space for fur parents and furbabies alike, and now I am pursuing education in ecology and rehabilitation! I'm so glad to be apart of a team that is as passionate as I am about taking care of your furbabies!