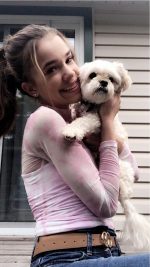 Growing up I have always had such a strong love for all types of animals. I have almost always had some type of pet in the house. From, fish to hamsters, bunnies and even a chinchilla! I currently have an 8 year old Bichon-Shih-tzu named Gizmo! He is a little ball of energy and it seems he gets crazier as he gets older!
I was first introduced to BSVH when I did my grade 11 co-op here. I am now on my last year of high school at Bluevale Collegiate Institute. When I graduate I plan on attending Sheridan College for their Vet Tech program.
Animals will always be such a big, happy part of my life and I cannot wait to continue helping all types of them while working here at Bridge Street!