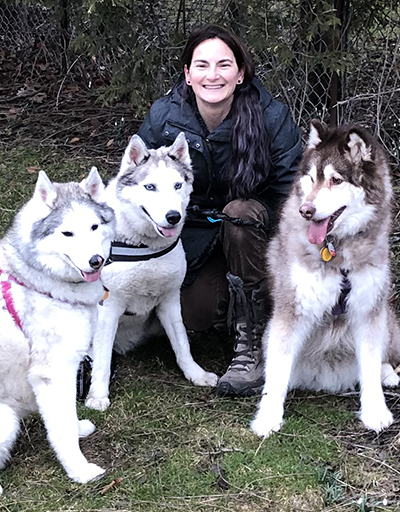 During my younger years I was always captivated by animals – cats, dogs, lizards, frogs – you name it! I grew up with Tiger, a big, orange male tabby cat who was always by my side – he came on walks, cruised in my bicycle basket, came when I whistled for him and slept on my bed. On camping trips I'd be the first one to spot wildlife, feed the chipmunks, pick up snakes. Following my love for zoo animals I was lucky enough to hand-raise monkeys, lion cubs and even a yak. To this day puppies make me say "awwww" and I love to spot hawks on hydro poles. Animals are such a huge part of my world.
Waterloo was and proudly is my hometown. I attended Sandown PS, Lincoln Heights and Bluevale Collegiate. My part-time jobs during school were animal related – working at local animal hospitals and African Lion Safari. The University of Guelph was where I completed my undergraduate studies and was accepted in the Veterinary Medicine program. I loved school…I was like a sponge wanting to learn everything I could to follow my dream of becoming a Veterinarian. I graduated in 1993 and have been loving my career ever since – being able to share the bond with clients and their pets, helping them to care for and keep their pets happy and healthy, making a difference…that's what it's all about!
Hands down, one of my favourite parts of veterinary medicine is attention to detail – finding the subtle changes on physical examination and developing a strategy to help my patients feel better. Seeing them comfortableand happy is a wonderful thing. For their families too!
Outside of the hospital I have am so very blessed to be able to share my life with my wonderful husband, Bill and our children. We all love our three crazy huskies – Luna, Suka and Ice, our iguana – Taco and our little turtle – Slider. As a family, we take to the outdoors every chance we get – kayaking, camping, hiking, splashing through puddles – really anything that gets us closer to the great outdoors. We are happy to have a busy "pet loving", "nature loving" home! To top things off, Bill and I were recently certified as Flat Water Kayaking Instructors and are pleased to be able to introduce this awesome pastime to students of all ages